Rare people, rare stories, rare decisions!
This wonderful couple, Glenn Greenwald and David Miranda, without even thinking, took a dog when they saw her in the forest of Rio de Janeiro. They just couldn't resist of looking at her all alone, abandoned and with the difficulties she had while walking.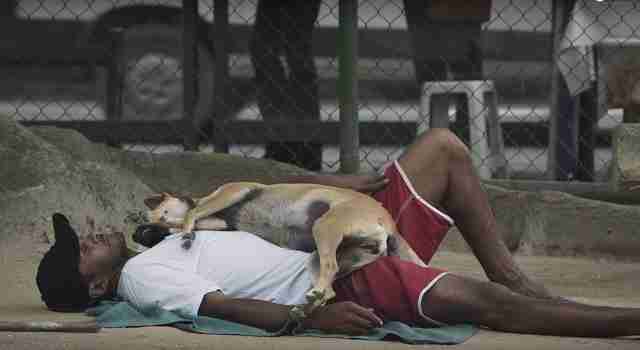 Besides the 7 other dogs the couple had, they got the new dog and named her Mabel.
What's more, after they got her, they found out that she was pregnant. She had 6 puppies, four of them were adopted out, and two of them were left with the couple.
However, this was just the beginning. They started to rescue all animals found in the streets and trying to find them a home, someone to adopt them. Miranda, went even further, by being elected as one of the City Council members.
By that time, the couple already had taken 23 dogs. Day by day, their work incited a new idea, that is rare and in the same time wonderful to hear.
The new idea consists of hiring homeless people that love animals and would love to help them. In the same time, this would help these homeless people become involved in a society.
By now, there are two people hired by the couple. This happened when they were walking by one of Rio's richest districts, they saw two homeless men, taking care for a sick puppy, while other rich people passing by, without even looking at them. These two young men are named Lucas and Wallace.
Even though, homeless and in bad conditions for themselves, they just couldn't watch the dog suffering.
Furthermore, they had troubles in finding the ways to help. They went from one vet to another, until they found the one who would check her out for free. Unfortunately, she was diagnosed with a fatal, neurological virus and this happened just because she was not vaccinated.
On the other hand, the illness of the dog had already been quite advanced, thus shortened her life, but the love she was getting even though for that short time, made her happy.
Lucas, 20 years old, became one of the first homeless person hired in the new concept of the new couple had. He already had an adult dog of his own. Now he is working with Francisko to develop the shelter.
The good news is that now he can afford to rent an apartment and live a normal life because of the salary he is getting.
The most important step that has been taken, is the partnership with an agency in Rio, CREAS, that has the goal of helping homeless.
There is also the team of volunteer veterinarians, nurses and animal rescue activists, who are willing to provide medical for the animals.
What is missing for this shelter is public support. There is being a campaign to get donations and also other forms to make welfare people aware of helping these animals and homeless people.
There is still the need of a quite big finance support.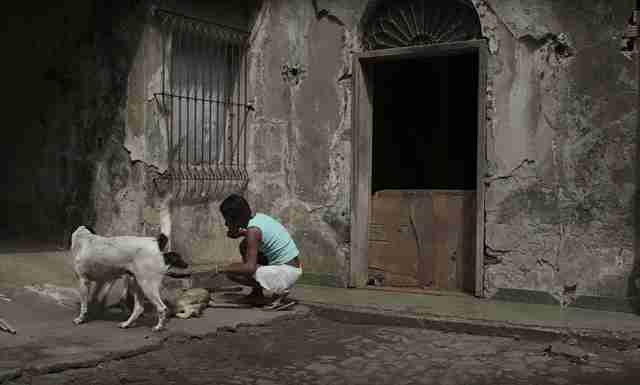 The main purpose of all the idea, is that homeless people living in streets with their pets, to be able to be in the staff of a shelter. This would provide them employment in animal shelters and all their suffering world would be centered by someone who they really love and care.
All should believe in the mutual support that homeless people and abandoned animals provide to each other. This is why we all should contribute in this idea to develop and help more people and animals.